About
Elena Bazanova will share some secrets on how harmony was achieved in the famous "Chinese motif. The color of nephrite and pomegranate" painting made in 2020.
The composition includes same drapes, while pomegranates are used as models. We will repeat delicate beautiful colors of the "Chinese motif" and the silk texture.
You will learn various aspects of mixing transparent and opaque colors and get inspired to find new solutions for your painting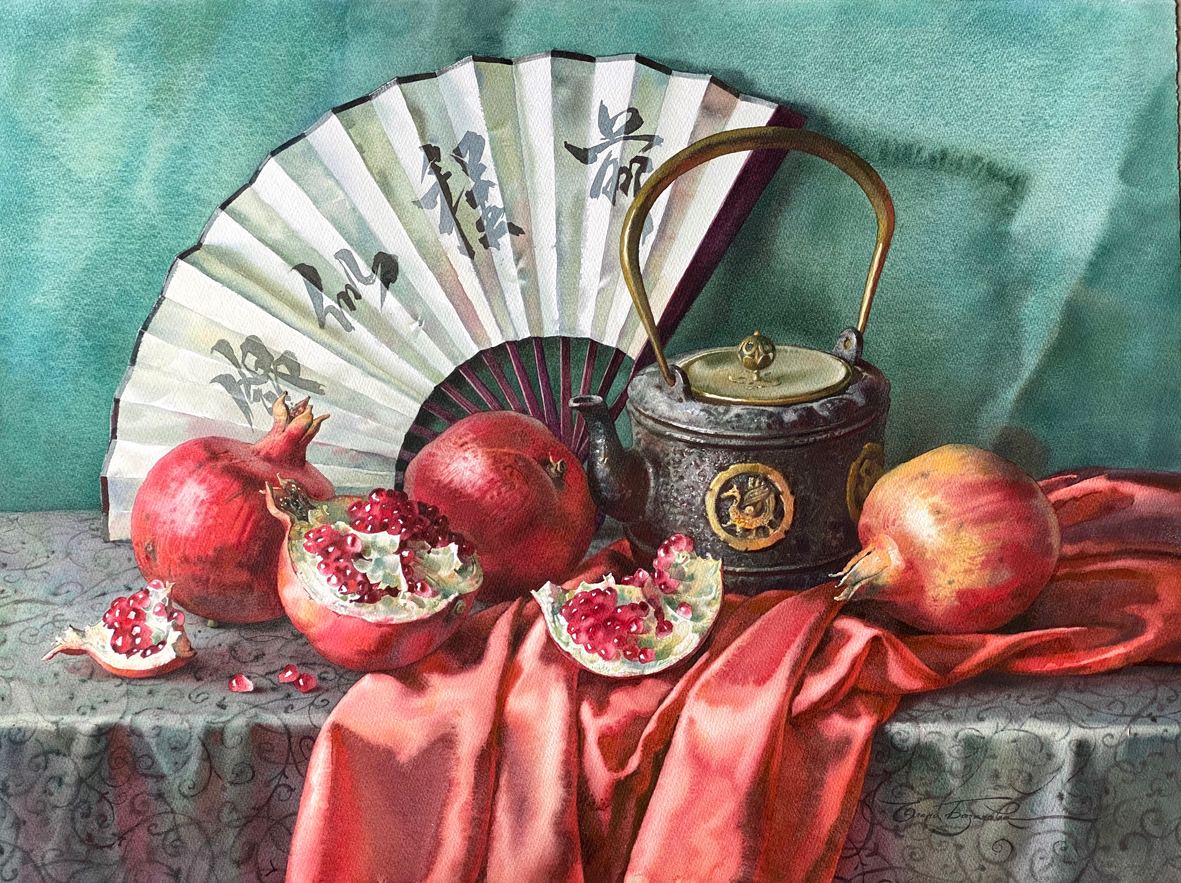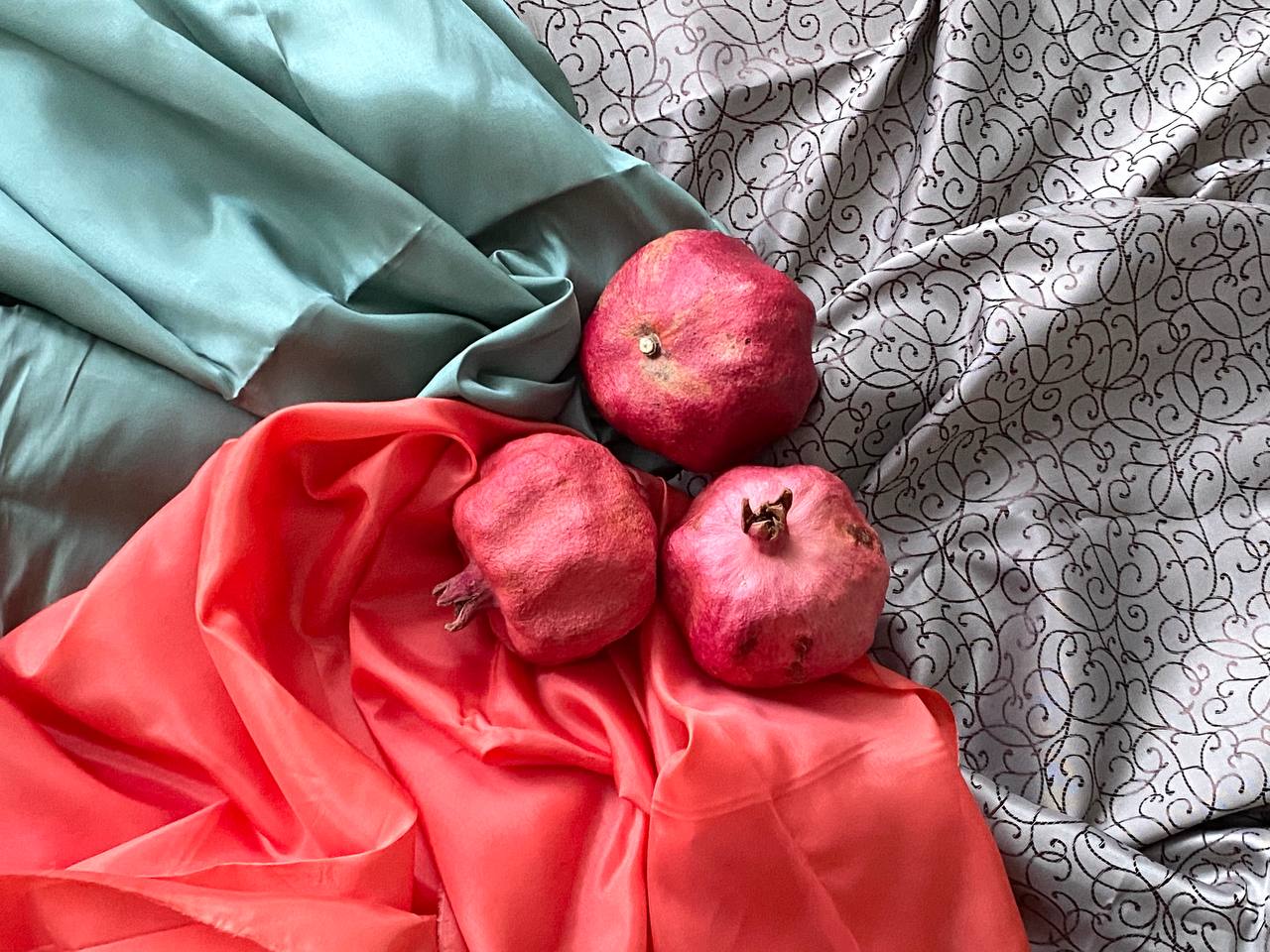 Lectoroom is a unique online school of painting, drawing and illustration. Based on the author programs of the teachers with whom we cooperate, here you will learn a lot of new things in different techniques. When, where and how much. It's all online.
You have access to videos courses 24/7.
Program
Recorded livestream. Part 1
58 min
Theory (explanation of skills necessary for painting pomegranates and drapes)
Reference demonstration
Explanation of composition
Toned and colored sketches
Exercises
Color selection
Necessary materials
For the painting: watercolor paper, medium formation (Cold pressed, CP/NOT Suerfase / Grain Fin); 300 g/m2 density, 100% cotton.
Author's recommendation: Saunders Waterford (manufactured by St. Cuthberts Mill, UK); Arches (France); Cezanne (Hahnemuele, Germany).
Size: 37 × 56 cm (half of standard 56 × 76 cm watercolor sheet) — 1 sheet.
For tonal sketches: any quality for drawing and painting. Landscape format (A4 or A3) — 2 or 3 sheets.
For watercolor sketches and exercises: quality suitable for watercolor painting (main work). 50% cotton paper can be used. Landscape format (A4 or A3) — 2 or 3 sheets.
Professional colors in cuvettes and tubes. Author's recommendation on mixing colors from the
"White Nights" palette by Nevskaya Palitra Artistic Paints Plant, 28 colors or White Nights watercolor set, 21 color in metal pencil case, Elena Bazanova palette
/ 214. Lemon (1)
/ 203. Cadmium Lemon
/ 201. Cadmium Yellow Medium (2)
/ 253. Aureolin
/ 219. Naples Yellow Light (3)
/ 254. Naples Orange (4)
/ 206. Ochre Light (5)
/ 217. Golden Deep (6)
/ 304. Cadmium Orange (7)
/ 315. Orange
/ 364. Geranium Red (8)
/ 323. Ruby (9)
/ 313. Madder Lake Red Light (10)
/ 324. Quinacridone Rose (11)
/ 609. Quinacridone Lilac
/ 621. Quinacridone Violet (12)
/ 511. Ultramarine Violet (13)
/ 515. Blue
/ 511. Ultramarine
/ 508. Cobalt Blue
/ 532. Cobalt Azure Blue (14)
/ 533. Cobalt Chrome Turquoise (15)
/ 531. Cobalt Turquoise (16)|
/ 509. Bright Blue (17)
/ 713. Emerald Green (18)
745. May Green (19)
/ 365. Venice Purple (20)
/ 321. English Red (21)
* Colors not included in the minimum set of 21 colors are not necessary. They may be used during the practise for testing and finding new color mixtures. The sketch can be painted without these colors.
List number / Manufacturer code / Name of paint (Set of 21 colors)
Reviews of author`s courses

so great! an excellent lesson!

Liang Billy
Course review:
The color of nephrite and pomegranate. Free lessons

I've learnt a lot in just an hour!! Elena is an excellent instructor. Beyond my expectations. The edition of the video is just perfect.

Rosalia Morales
Course review:
The color of nephrite and pomegranate. Free lessons

Very nice!!!!

Moises Caballero
Course review:
The color of nephrite and pomegranate. Free lessons

That was really useful. I really enjoyed this lesson. Thank you

Rosemary Soper
Course review:
The color of nephrite and pomegranate. Free lessons