About
Available with English, Spanish, French, Portuguese and German subtitles
Through facial expressions we learn about the experiences and emotions of another person. But it is not just emotion, the color of clothing, the hair, the fly in the right place, and especially the jewelry that lets the viewer know what kind of person is in front of them. In this practice we will touch on all of these topics. Mostly, of course, on the techniques of watercolor painting and gilding.
What's new for you:
A detailed breakdown of how to create a rough sketch. Learn to know in seconds if what you have in mind looks good on the sheet of paper, instead of wasting a couple of hours of work on it.
Places to refine later. It's about being able to imagine all the stages of a drawing from the very beginning. Then it is possible to understand which elements overlap each other. The practical benefit is that you can avoid being careful where everything will be overlapped by locks of hair, thick shadow, or a pattern of potato. It helps to keep your concentration for the really important moments.
Selecting a color palette. To keep the overall tone: cold or warm, you should decide on the palette to use. In fact, it is 2-3 colors that are used in almost every mix. This skill requires a good memory and great stamina, so to simplify, you can take a couple of references with the desired colors and keep them handy, checking periodically. Or make a substrate at the beginning of the work, but this is in practice a step towards complication, so the references are better.
More detailed anatomy. We are interested in three points: 1.Frontal lobes with their unobvious geometry above the bridge of the nose. 2. The cheekbones closer to the ears and the penumbra formed near the edges of the eyes. 3. The muscles of the neck, especially the trapezius. There is a lot of room for self-improvement and knowledge for several years of anatomy class. We will learn how to see them, and then through practice you can apply the knowledge according to the purpose.
Emotion tweaking. A couple of useful nuances, such as head tilt, iris size relative to the whites of the eyes, glare strength, and other things that affect the overall emotion of the portrait.
Circular Background Fills. This is a derivative of "Places to Follow" and working with gilding. Knowing that there will be a neat gold ornament on top of the fill, you can set color gradients in circles. It looks untidy at first, but then it's chic. It's a cool technique that I owe it to you to show you.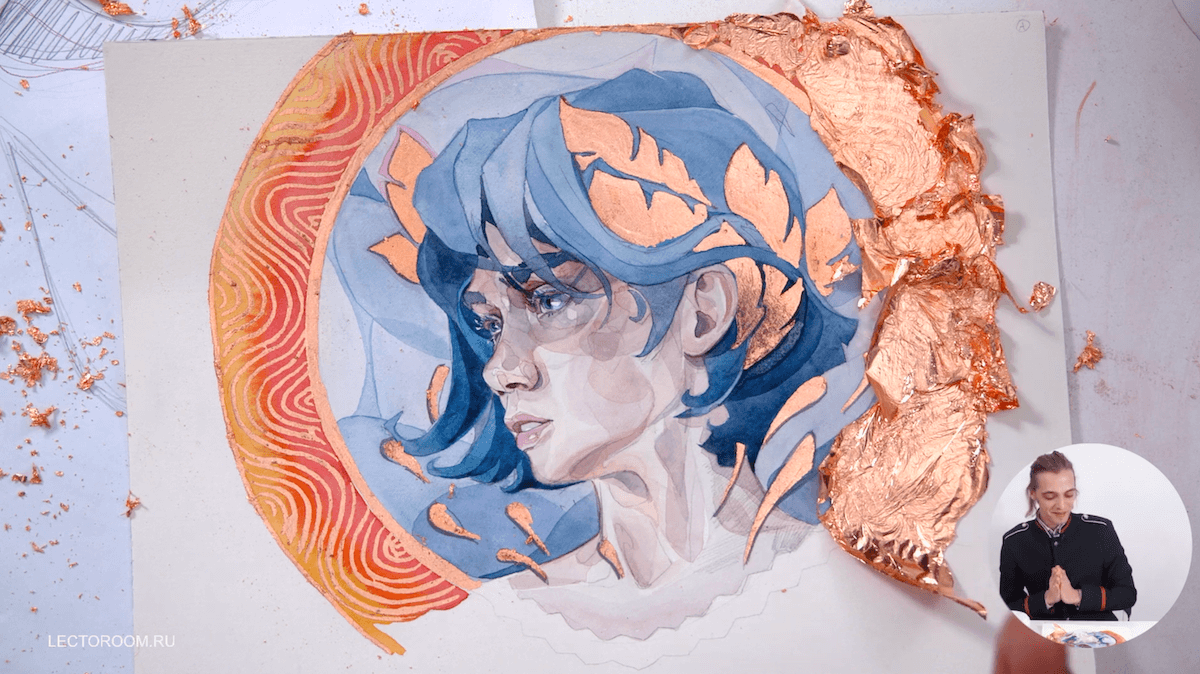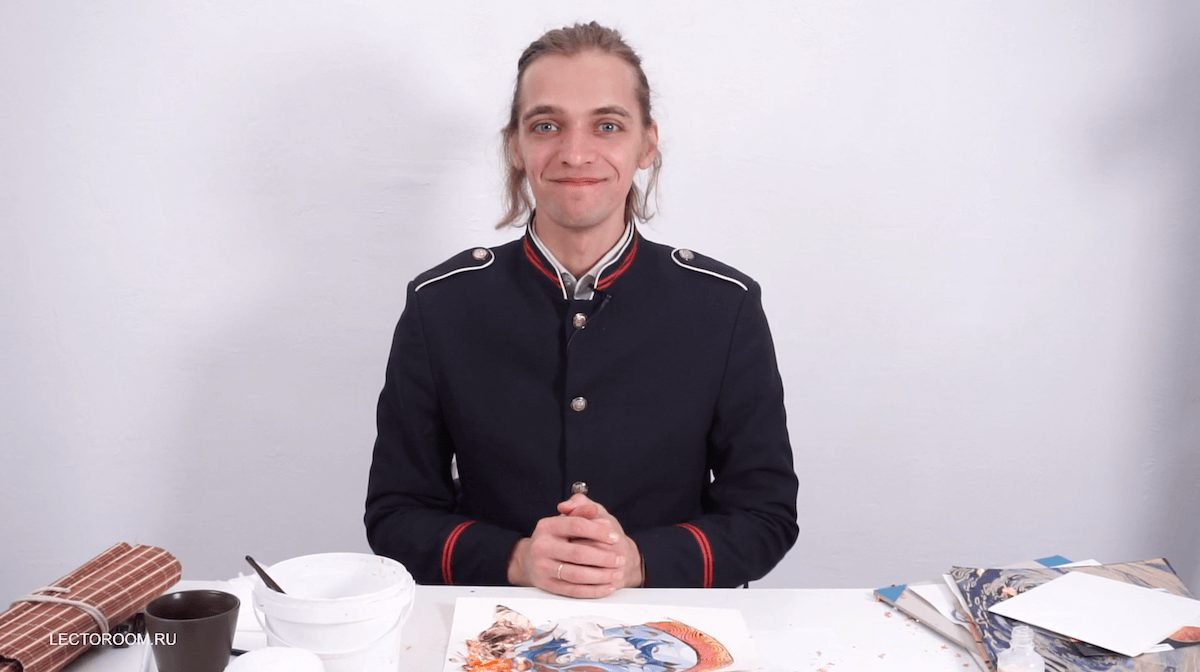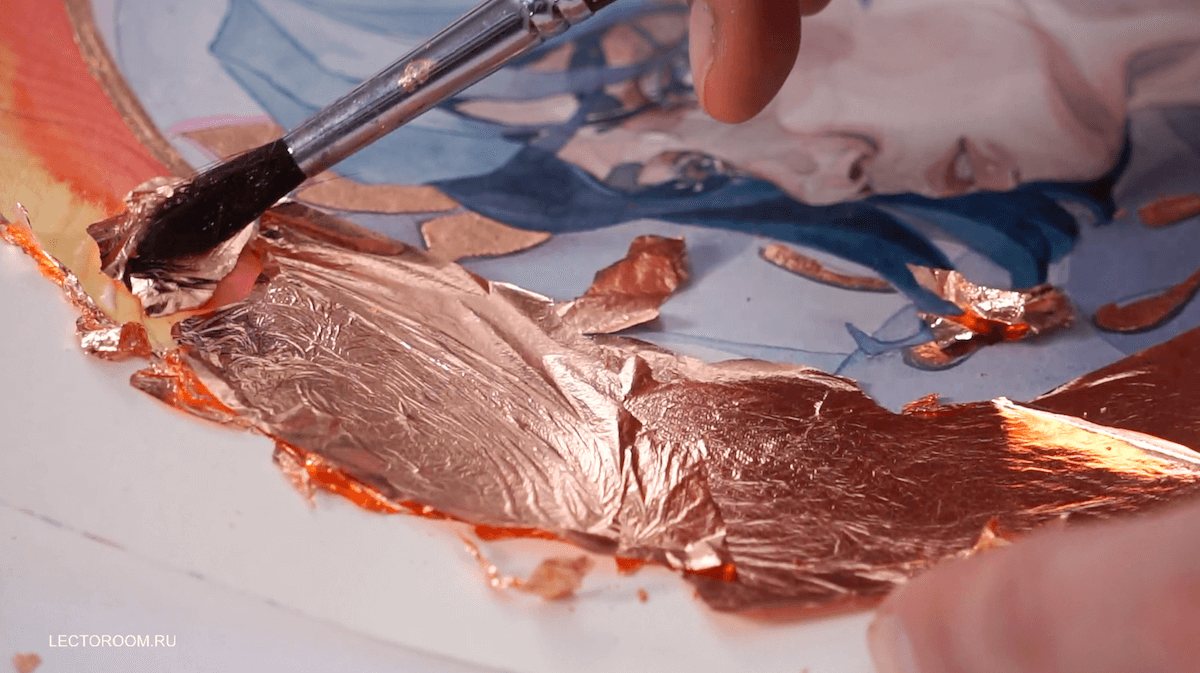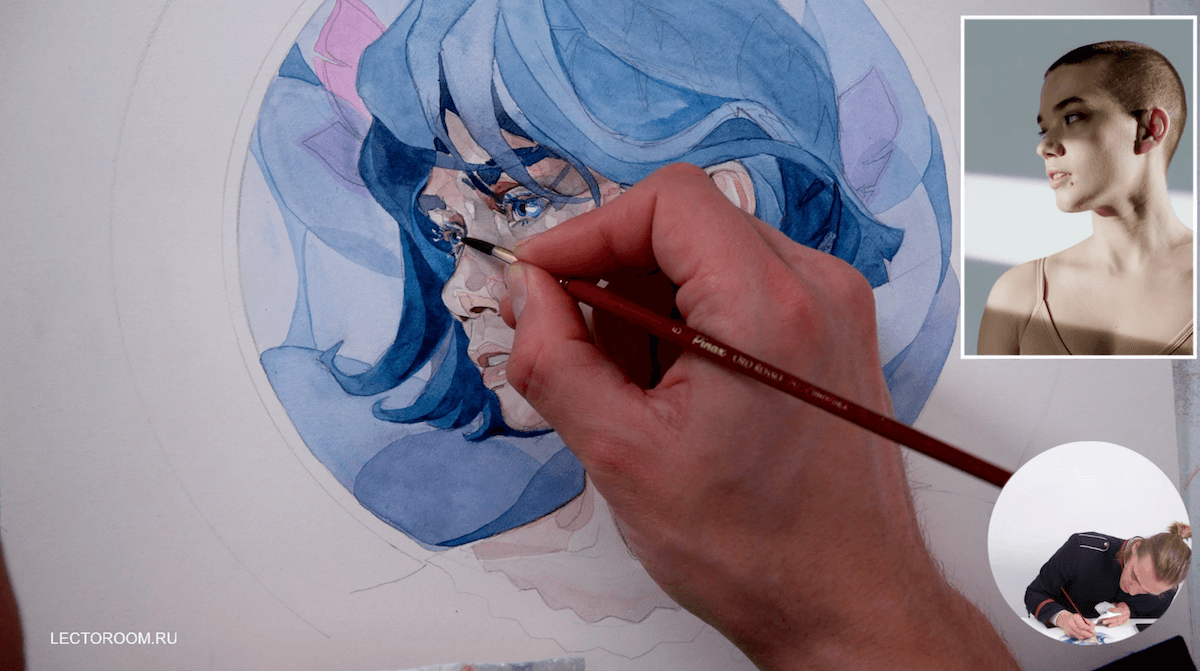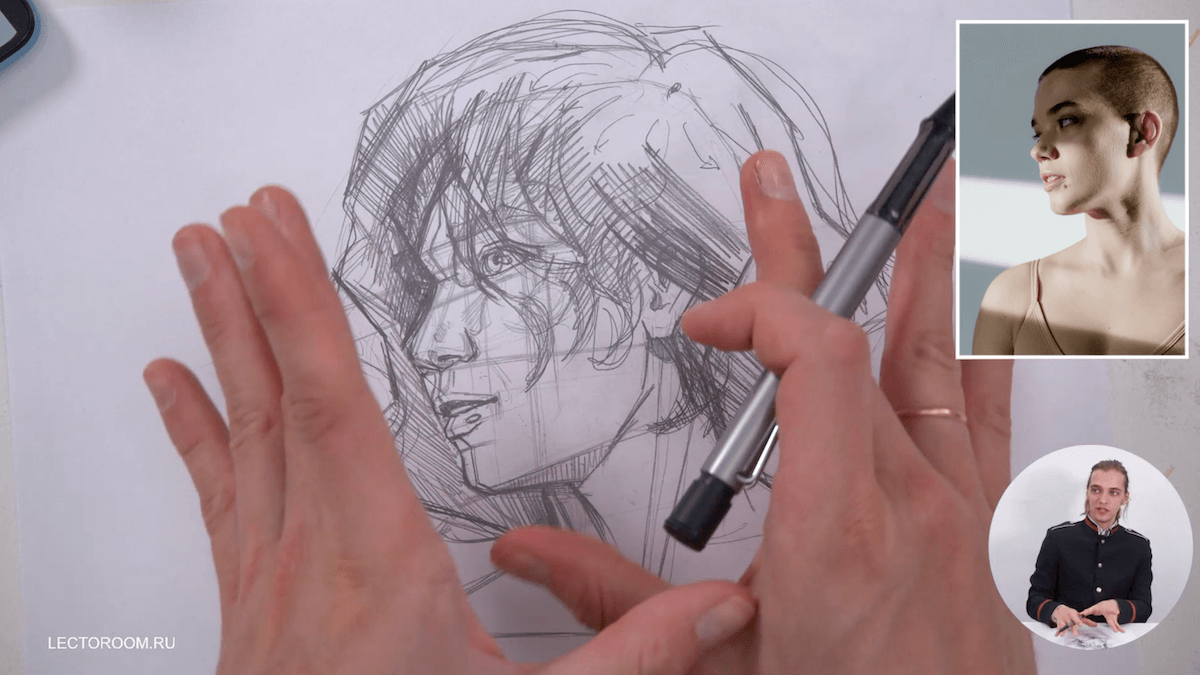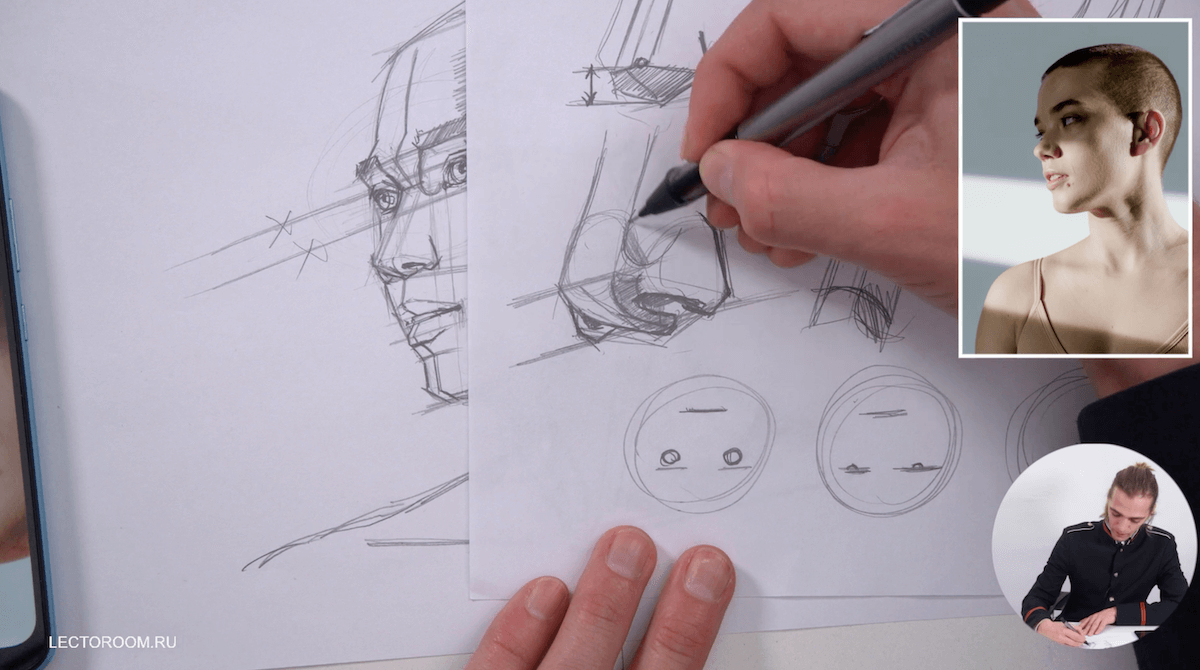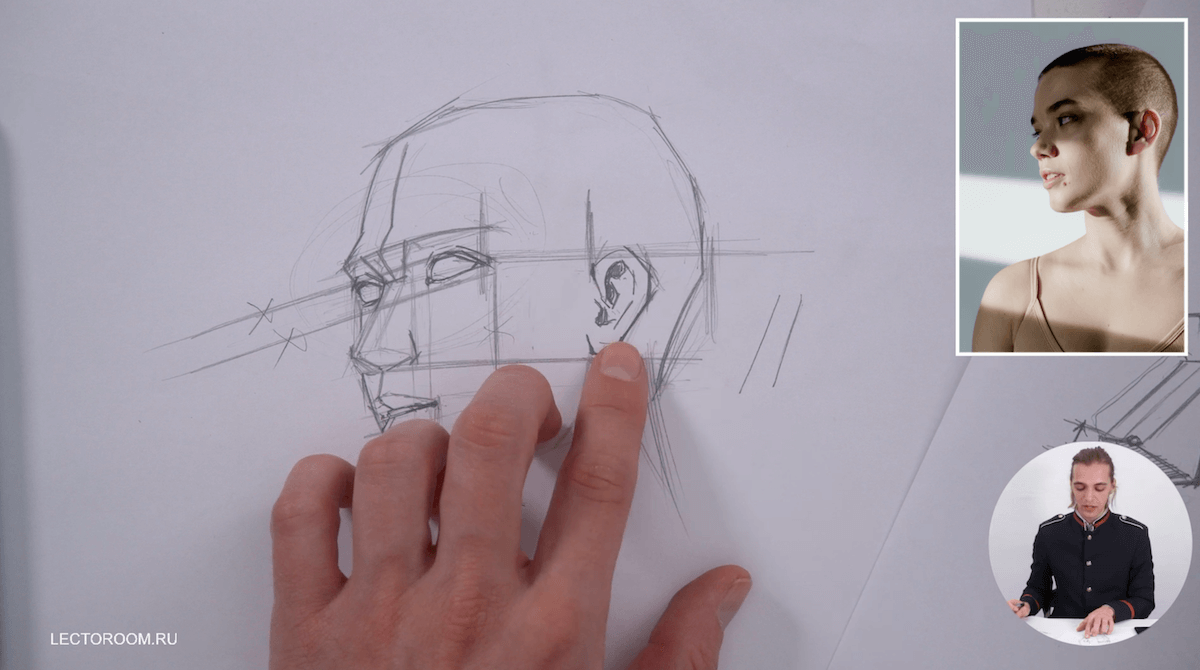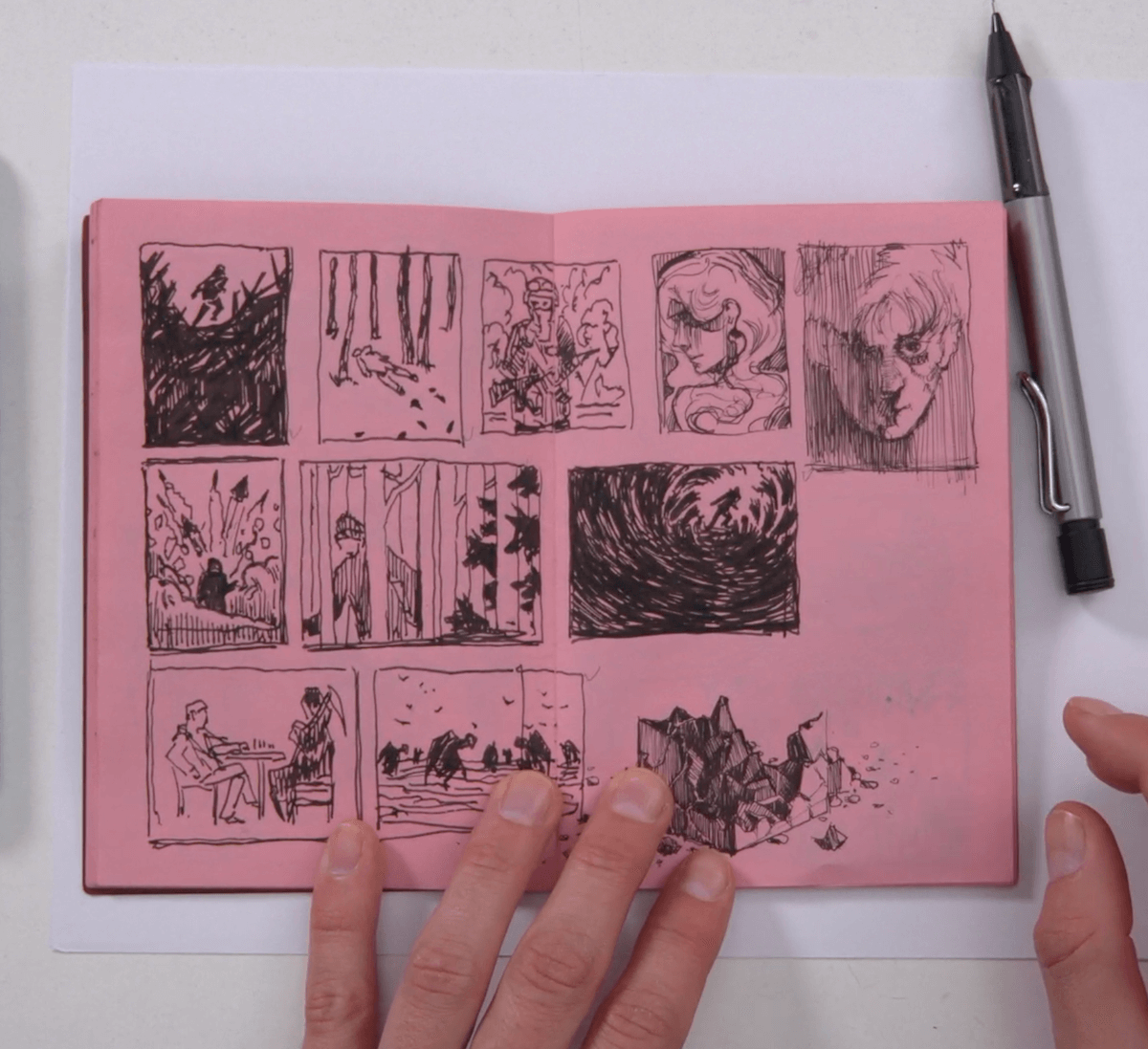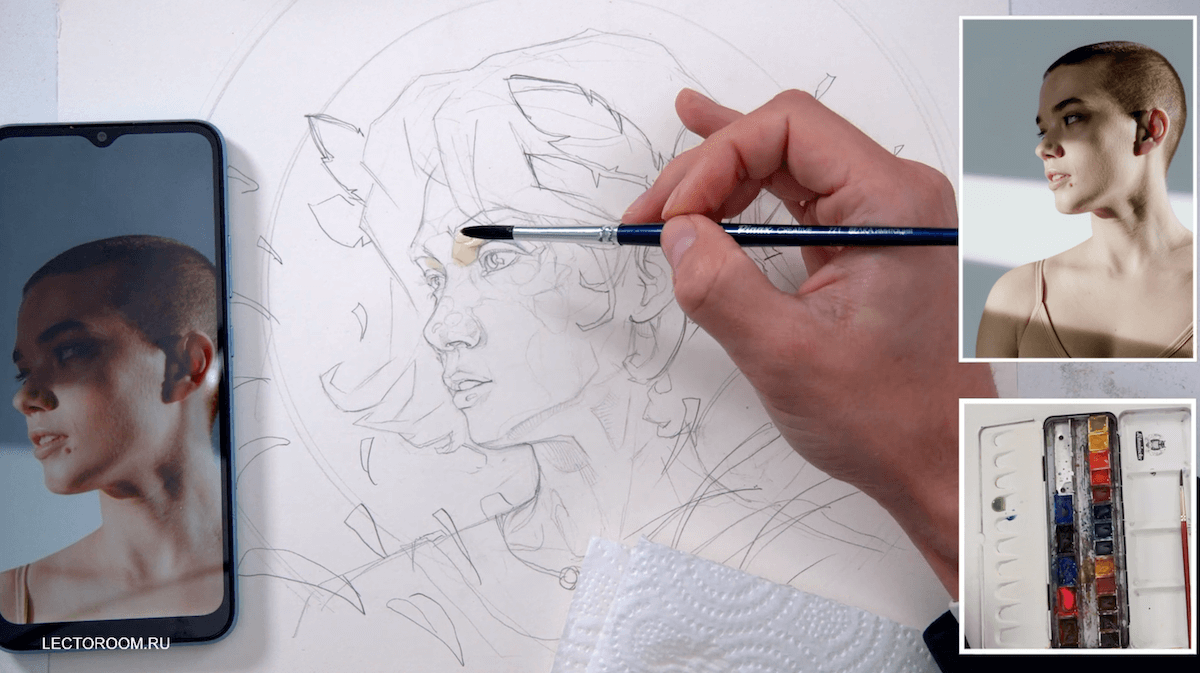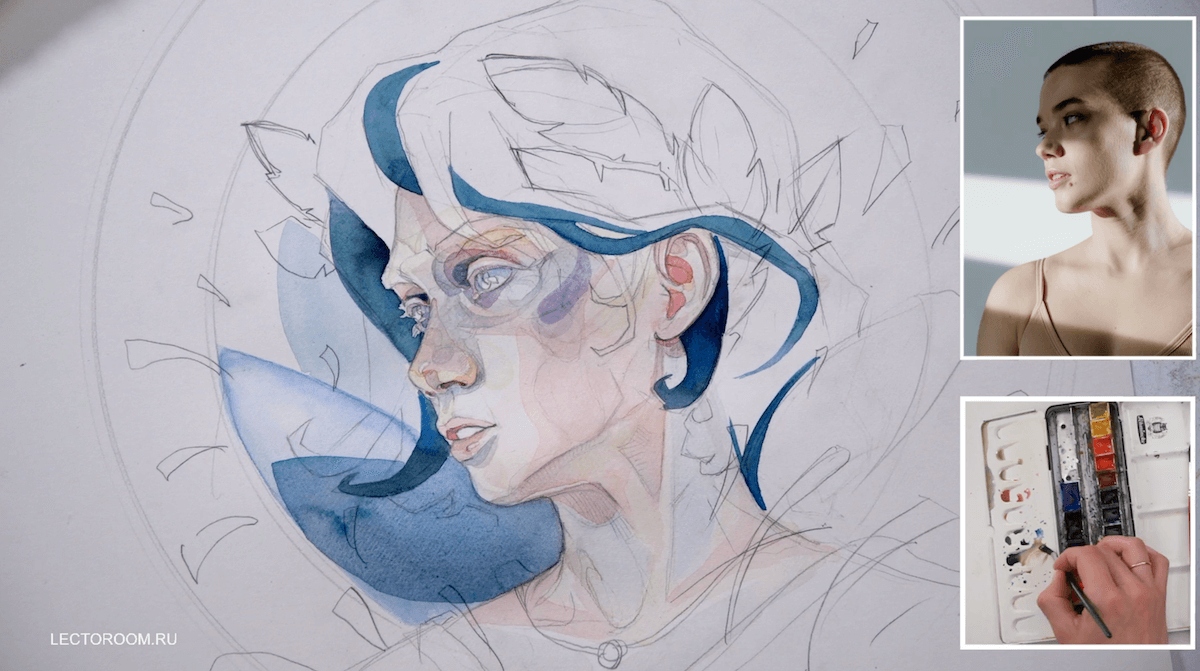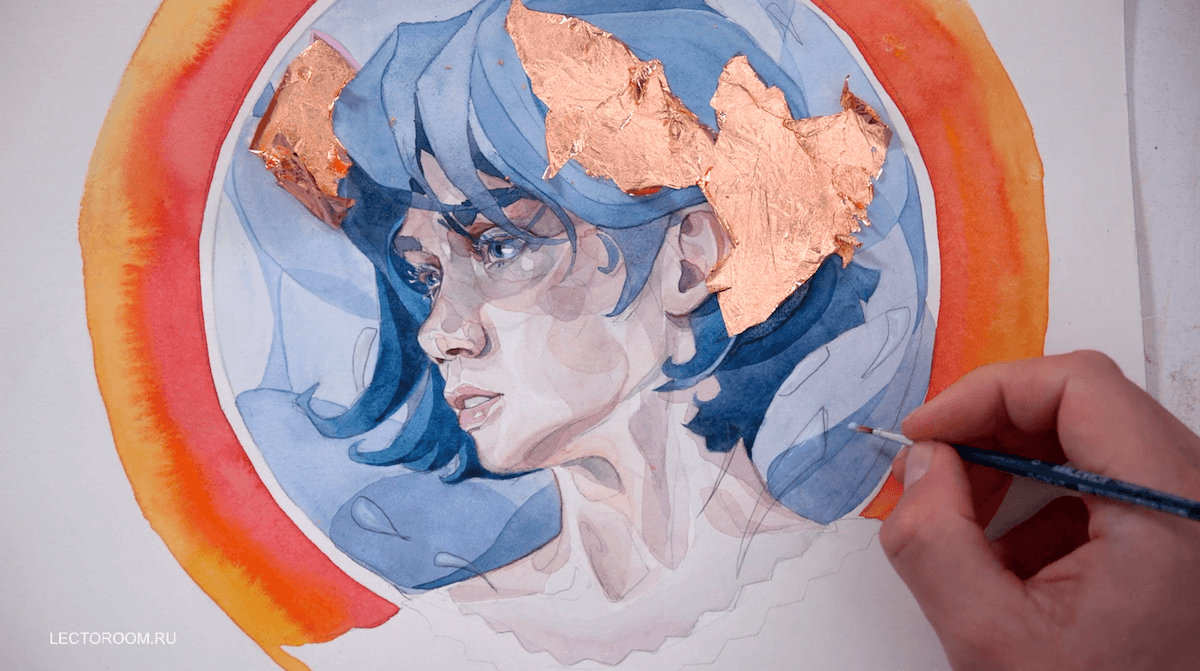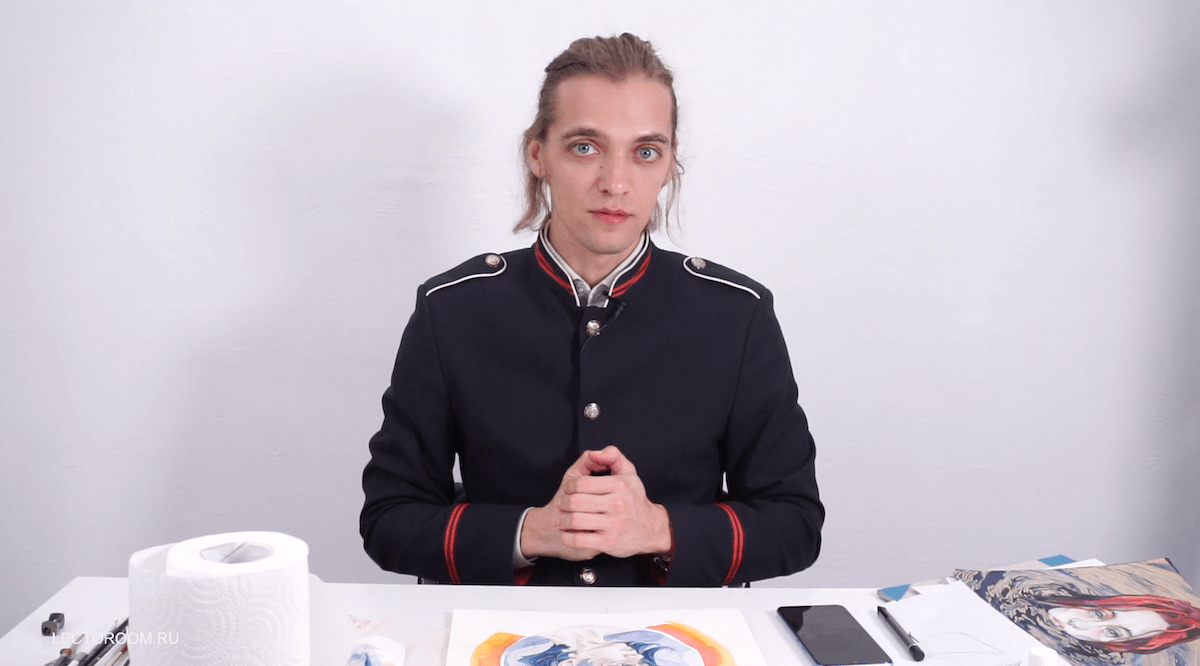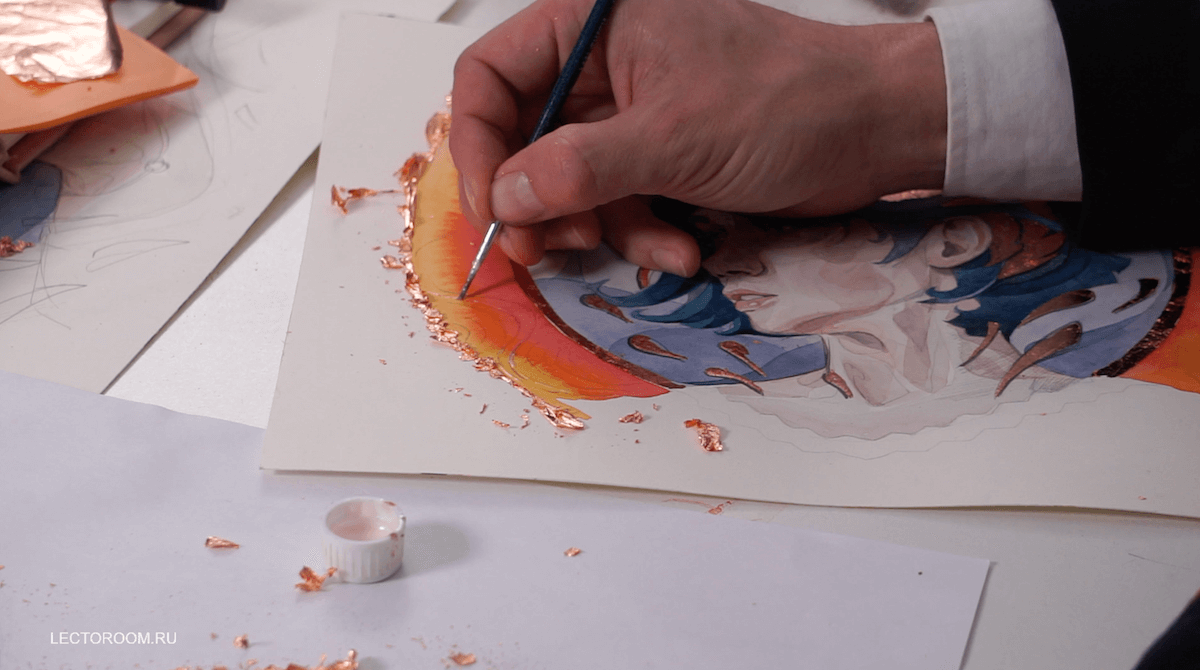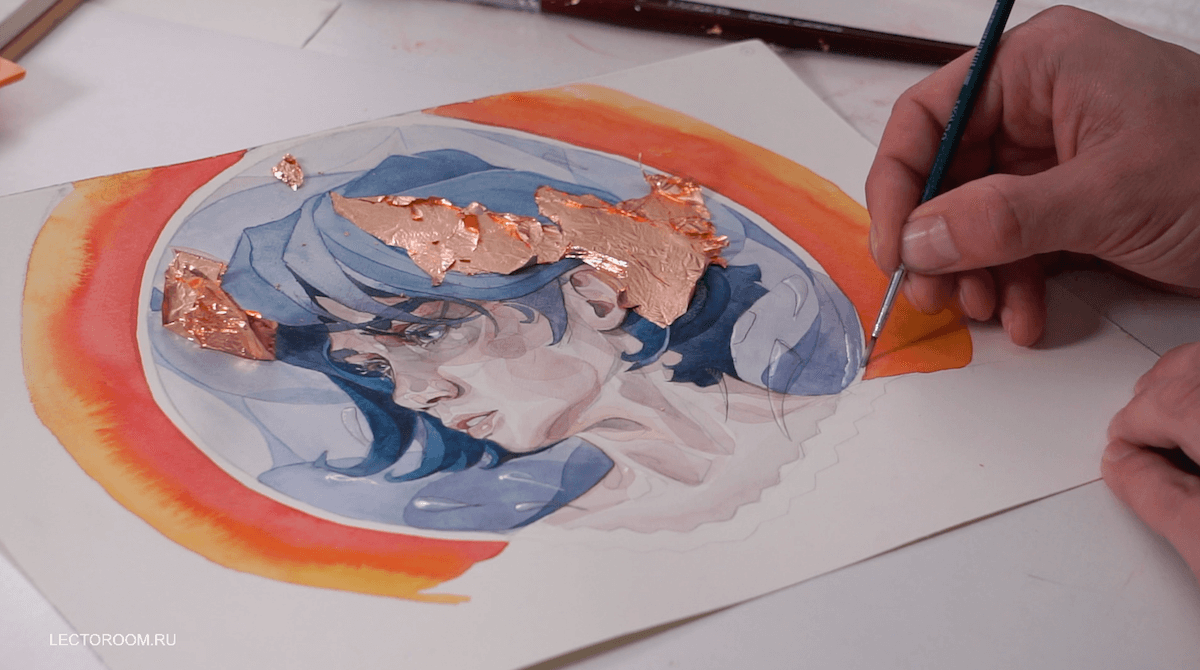 Lectoroom is a unique online school of painting, drawing and illustration. Based on the author programs of the teachers with whom we cooperate, here you will learn a lot of new things in different techniques. When, where and how much. It's all online.
You have access to videos courses 24/7.
Program
Women's portrait in watercolor and gilding
5 hours and 30 minutes
A brief description of the topic.
the materials used and what they can be replaced with.
Where it all began. Gold on icons, gold in modern times.
Getting Started: Reference, Sketch, Drawing. We think about where gilding will be appropriate, and which elements can be covered by it.
The middle of the work. Water color, cool and warm colors, stroke in places to be covered with gilding. Especially carefully the spots near the face.
Drawing a portrait in watercolor.
Gradient fill under gilding.
Apply glue and lay gilding using three options: sheet, pieces, and crumbs.
We remove the excess gauze with explanations:
how you can ruin the coating when you remove it
where to take the rest of them
Is it necessary to varnish the gilding afterwards?
Talking about the creative potential of the material
Necessary materials
A sheet of A4 watercolor paper (I will use satin fabriano 300g/m)
Round synthetic watercolor brush, is 3-10 (three brushes: large, medium, small. Size does not matter, the main thing is convenience).
HB and 2B pencils (I have an automatic Lamy with HB refill)
Eraser, preferably softer, so as not to deform the paper.
Standard watercolor set of 12 colors + bright opera from Mijello. (I don't know what to replace it with, and it's important because I add it to all my mixes)
Gold gilding sheets
Glue with a drying time of 40 minutes or more
Synthetic brush № 2 or higher (It is better not to be spared, because after the glue it is not really possible to draw with it)
Squirrel #10 and fan brush #4
A jar, box, or something else where you can store the leftovers from the gilding.
Prepare a line portrait before the workshop. Use this drawing file from Sergei Zinovkin. Repeat the portrait yourself or translate it through a light table or window